There are so many supplies out there on the market that can be used for mixed-media and art journaling. We all love the bascis: gesso, gel medium, acrylics, watercolours (you can find the full list of my favourite art journaling supplies in the Creative Sparks Library here)
But ever so often I stumble upon a slightly less known or less basic product that simply blows my mind :)
And even though I always encourage my students to use up their stash and focus on the process rather than purchasing more supplies, I also know that a brand new pencil that has a unique characteristic can spice up our art practice and make us excited about creating all over again.
So here are three art journaling supplies which I think are very special in one way or another, and which are always on my desk. If you're looking to add something fun and slightly different to your usual art kit, check these out:
​
1. Watersoluble graphite putty. (I'm using ArtGraf but there are other brands too!) Seriously, this opened up a whole world of opportunities to me. I have to admit, in a jar it doesn't look that exciting. Maybe that's why I had it in my drawer for several months before I properly tried it? It's solid and pliable so you tear out a piece and start drawing with it. This is the precise moment when magic starts to happen. It's super smooth and then when you add water to it... mmm, you just have to try. All I want is to make marks with it, and then make more marks with it. You have to know though, it's got a waxy finish so you won't be able to apply any other mediums on top.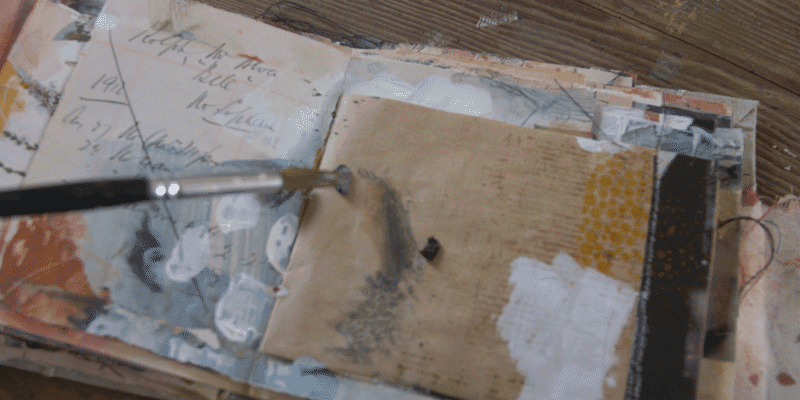 2. Stabilo CarbOthello. First of all, I love the name. It immediately makes me think of Shakespeare and so I feel very cultured when I'm using it ;) It's basically a dry pastel in a pencil, but it goes on paper so smoothly and easily that I could spend hours making little marks in my journal with it. And since it's a pencil, you can sharpen it to an almost illegal point and do some proper detailing. Not possible with dry pastels in sticks. Another word of warning, it needs a matte surface so gesso (clear or white) is your friend.
​ 3. Dina Wakley Media Gloss Spray by Ranger. My favourite is Cheddar. Now many of you may be already familiar with it, but it took me a while to add it to my shopping basket. The reason is because I already have a massive drawer full of hardly-ever used sprays, but the word "gloss" lured me. And I don't regret because the finish is ultra smooth, glossy and most of all - opaque. I always love that! I use it to create little pools of colour on my pages and then shift the wet colour with various tools (try a bamboo pen!).
Have you got any super finds that spiced up your art practice recently? Please share in the comments, there's always room for more in my art drawers (no, there isn't but who cares :) ​ ​